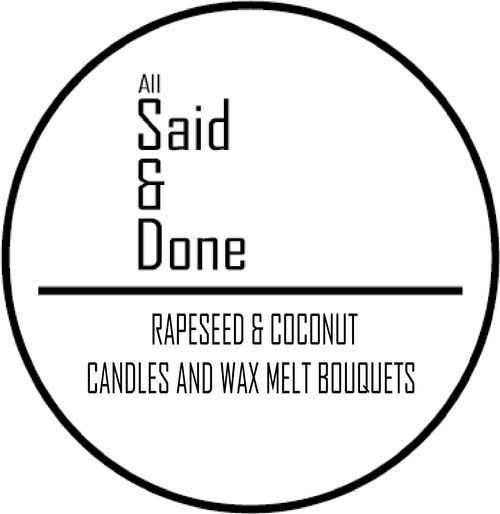 We are a company that produces scented candles and wax melt bouquets to aid relaxation, commemorate a milestone, a moment of rememberance or a celebration. We use 100% Rapeseed and Coconut wax in all our products and our scents are vegan friendly and paraben free. With our scents we hope to give our customers the choice to light them up or melt them down when all is said and done.
Our wax melt bouquets come as a single, duo or quartet and each cube has a melt time of 20 hours. We adorn each cube with dried flowers and fruit that best represent the notes within the scents. some have an added whisper of gold leaf to add a little decadence. Each wax melt is wrapped in green tissue paper and packaged in a white pearlised box.
We also produce our flower shaped wax melts which come in a pack of 6. Each melt has a sprinkling of dried flora that best emulates the scent used. They are packaged in a biodegradeable glassine bag.
Our miniature candles (15ml) use dusty pink alluminium pots with a screw lid which make the perfect little gift or addition to a hamper. Again we use Rapeseed and Coconut wax and they have a burn time of 4 hours.
Our larger candles come in white alluminium containers and each candle comes with a candle duster which is embedded with up to 20 varieties of British Wildflower seeds.
Our aim is to bring a soothing, calming antidote when all is said and done.