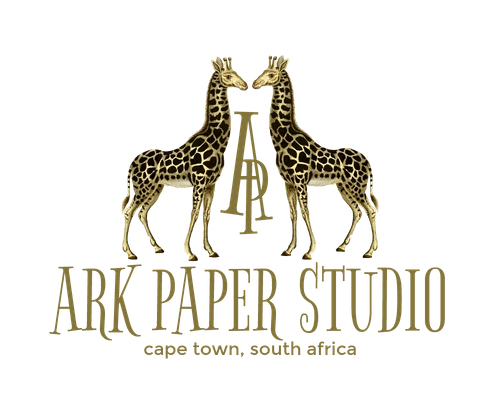 Curate your own collections.
Past meets Present... Ark Papers is an archival design studio based in Cape Town, South Africa showcasing the beauty that lies between the pages of forgotten books.
After a serendipitous discovery of a discarded book from 1860 dumped at landfill, a quest was borne to resurrect the papers of the past and bring them into our present once again having a chance to shine! In weaving many different elements together from different books and years, a new captivating and inspiring design narrative emerges. The brand has managed to capture the imaginations of nature lovers worldwide with its distinctive and totally unique voice.
Founder and creator Lyndsay Catherine endeavours to breathe new life into papers housed in archives, resurrecting them true to their original state without destroying the integrity of their origin, and showcasing their beauty through the art of collage.
With a large library of over 120 designs, a collection of homewares, fabrics, wallpapers, kitchen textiles, accessories and stationary can be found.
Essentially a bespoke luxury homewares brand who handles every aspect from conceptual design, product development, print and production and even packaging for their clients.
Currently only to the trade, we do not offer an online shop as our designs are reserved strictly for our trade clients in order for them to curate seasonal ranges without having to source new brands each season.
Whether its an English Country Garden, African Safari or Island Style beach house living, we have something for every taste and style which can also be customised to our clients specifications.
We have made several contacts within the UK who will be our production partners in order to manufacture and distribute directly to our our UK clients, using familiar products that are already placed within the British marketplace.
We work alongside some of the most iconic hotels and lodges in Africa curating special collections of merchandise unique to their destination. All our products are made to order as each order is bespokely printed and produced to our clients preferences.
We are passionate in supporting charitable organisations that work in preserving and protecting endangered wildlife and biodiversity. We offer a pro-bono design service to registered charities and organisations looking to create bespoke merchandise in supporting their specific causes.
A female owned small business, we are a zero waste company and are continuously exploring and implementing ethical and sustainable practices in our production. We print on demand to avoid any waste and only use eco-friendly inks that are not damaging to the environment. We have recently also switched to using a luxurious RPET (recycled plastic) fabric in producing some of our merchandise.
We have stockists worldwide and have enjoyed a successful introduction to the UK market via our fabric and wallpaper representative in Britain. Our cushions have been stocked at The Wedding List Co, I Love Designer and Porcupine Rocks in the UK. Several features in a UK and European editorials.
Flying in from Cape Town, we wont have every design on display, but we will have a large selection of every product and fabric options we produce.
We hope to meet you to showcase a taster of our collections! HALL M - Stand M39 (near the Trends stage)