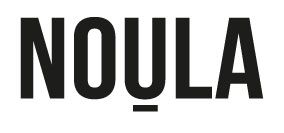 We are Noula-studio. A vegan, cruelty free and eco conscious home fragrance brand based just outside of Brighton, UK. Founded by Jessica, who has always loved the ritual of burning candles. We use coco-soy wax for all of our candles and wax melts and we source all of our ingredients from UK suppliers, trying to do our best for our customers and the environment.
Noula was developed with the notion that fragrance can really create a mood, a feeling, a place of nostalgia. We aim to create beautiful blends that transport you to a moment; whether that be a moment of calm or back to a moment in time. In this fast paced world we live in, we believe that feel-good rituals are necessary to remind us to slow down and take some time to renew our energy. So whether you're popping one our wax melts on, lighting up a candle, freshening up a room with our room sprays or enjoying the longlasting fragrance of our diffusers your home will be filled with the moment you choose to be transported to.
Noula make all our products with love, (and that's important) in small batches. Our small production team are considered friends and family; everything is hand blended, wicked, labelled and poured in house by us - from our hands to yours.