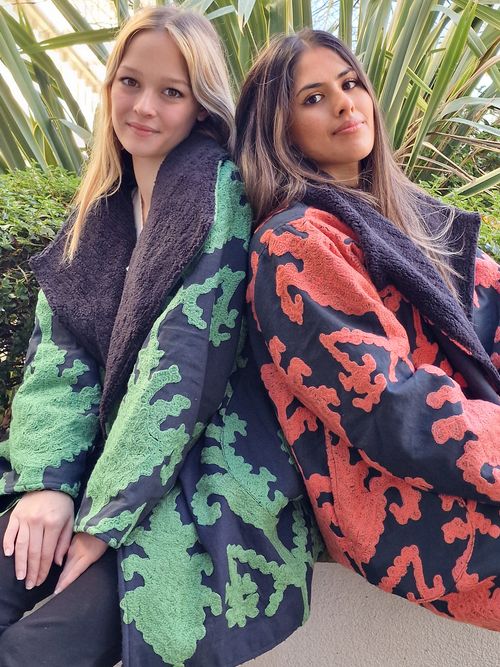 At Essential Designs London, we try to bring the spirit of traditional India into Clothing & Home Furnishings which keep the handcrafted magic alive but are affordable to everyone to appreciate in their homes. Our products range from up north Kashmir to Western India Rajasthan & Gujarat!

We specialise in manufacturing Clothing & Sofy home furnishing where we use some amazing fabrics/ craftmanships of India such as Kantha ( Vintage & New ) , Suzani ( Vintage & New ) , Silk as well as Wool.

Our company, founded in 2008 was a creative edge for Minnie who is a textile enthusiast but was feeling lack of any creative outlet. She started small, as it was a tough journey for a person to manage all the ends from production to sales. In 2016, Devi joined as a co-partner to support, create and add some vibrancy to the collection. Since 2016, we both manage different ends of the work.

Devi is born in Rajasthan and has travelled worldwide . Together ,We travel thrice a year to India to work closely with artisans, Devi often stays behind for longer durations to make stuff personally with the artisans . This also allows us to ensure quality standards and also explore all that is new and upcoming. We sit down personally with artisans ensure all the collection is quality checked before reaching the UK. Different artisans are based across Rajasthan in western India. We travel locally spending time at different units, especially the ones in Barmer and Jaipur. Other times of the year we have to rely upon technology which has certainly made it easier to connect with artisans and their specialities.

Together, they bring the hard work of the artisans to fruition by making sure that the artisans are fairly paid and have ethical working atmosphere and standards. Our Love for unique Bohemian Spirit can be widely seen in the elements of the products from the collection.

We aim to keep alive the vibe of India world-over and show how our diversity still unites us!