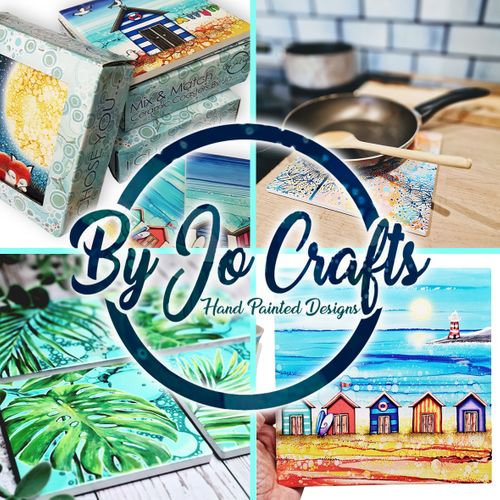 As Edward Hopper once said, "If I could say it in words, there would be no reason to paint" and our products speak volumes.
At By Jo Crafts, our professional artist, and former Art Teacher Jo, creates all our artwork by hand, inspired by nature and natural forms. Meanwhile, our Business Manager Gem promotes, markets, develops, and runs the business as it grows.
By Jo Crafts is a small business run by us. 2 ordinary ladies who enjoy bringing colour and beauty into people's homes. Whether that's with coasters, hessian bags, tea towels or Christmas decorations, we have amazing products with vibrant designs to suit every home, every room, and every season.
Jo comes from a family of artists with her background in teaching Art & Textiles. Jo enjoys creating our hand painted designs highlighting her passion for vibrant colour and vivid images. gem's experience of working in a corporate bank allows her to bring her organisations skills and business acumen to drive the business forward and has resulted in By Jo Crafts products being sold across the globe. Whilst at the same time both being mothers and wives who love spending time with their families.
We love to see and hear feedback we get from satisfied customers who have used our huge range of products to brighten up their homes and bring some colour, energy, and beauty into their lives.
#beautyandthebrains
TWO FRIENDS, ORDINARY LIVES, ONE BUSINESS
Shopping has never been so vibrant!