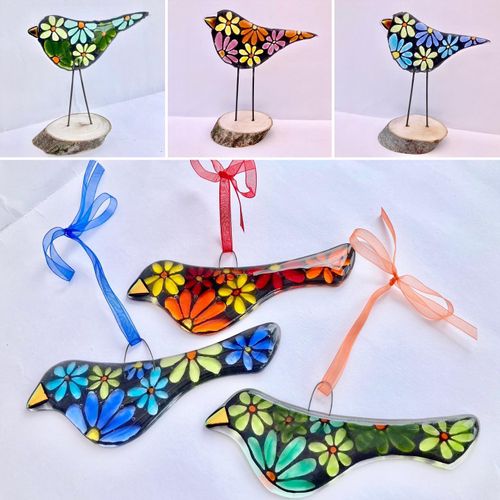 Leona Stewart is a professional glass artist based in Ayr, west coast of Scotland. Her love of her garden, birds, local landscapes and environmental coastal surroundings influence her designs. Her studio has been established in Ayr for over 20 years where she designs, creates and teaches.
Her fused glass gifts are made from her own designs. She cuts the 2 layers of glass, hand paints the glass, adds any inclusions such as wire or glass frit/powder, before the pieces are placed on a shelf in the glass kiln and fired to approx 790C. The glass is then drilled and glued into wood bases that are supplied from an Ayrshire farm.
Leona Stewart Glass products are stocked in the Burrell Collection, Glasgow and in many small shops and galleries throughout Scotland. Leona can design bespoke pieces for your business based on your logo or any design ideas.
She is a member of the Scottish Glass Society, Contemporary Glass Society & has exhibited at The Gallery & The Barony in West Kilbride (Scotland's Craft Town), Roger Billcliffe Gallery, Glasgow Print Studio, The Harbour Arts Centre in Irvine & The Maclaurin Galleries in Ayr.