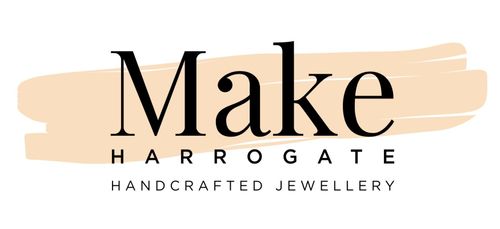 Welcome to The Harrogate Home and Gift Fair, where I am thrilled to showcase Make Harrogate – Handcrafted Jewellery for the first time. Make Harrogate is dedicated to creating Jewellery that is hypoallergenic, light weight and truly unique.
The brand-new collections boast a wide array of designs, ranging from striking statement earrings to delicate studs. Whatever the style or occasion, Make Harrogate offers a diverse selection to appeal to every customer.
What truly sets the brand apart is my unwavering commitment to using hypoallergenic and lightweight materials. I exclusively use high-quality stainless steel, ensuring that our pieces are safe and gentle on all skin types. Our jewellery provides a worry-free experience, even for those with sensitive skin or allergies. With Make Harrogate, your customers can indulge in the incredible feeling the come with wearing beautiful jewellery without any discomfort or irritation.
I take pride in hand crafting each piece with meticulous attention to detail, ensuring that they not only look stunning but also feel exceptionally comfortable.
Visit my booth at The Harrogate Home and Gift Fair and discover Make Harrogate. I will be delighted to guide you through our stunning collections, answer any questions you may have, and help you find the perfect pieces for your customers.