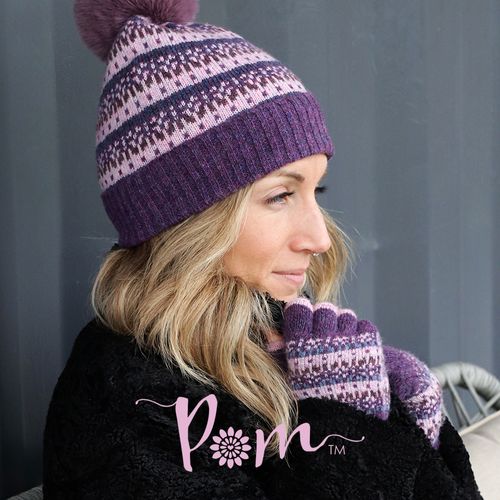 PoM's new Autumn/Winter collection brings together luxuriously cosy accessories with an exquisite selection of silver and gift jewellery.
ECO RANGES - This season we introduce even more Eco designs than ever before. Sustainable yarns and an abundance of recycled elements in our products ensure that winter style not only looks fabulous, but is good for the planet too.
VEGAN - Vegan friendly products return for Autumn with a stunning array of wonderfully soft bags while faux fur and faux suede add a luxurious feel to hats and gloves.
NEW GIFTS - A beautiful new limited collection for Christmas has the gift season all wrapped up, with a truly wonderful selection of pyjamas, sleep masks, jewellery boxes and more.
MEN'S - Our 'Gift of The Year shortlisted' men's range has been extended to include wallets, along with our ever popular scarves hats & gloves.
BEST-SELLERS - Our cosy best-selling scarf range offers comfort, warmth & elegance at great price points, with super soft knitted beanies & bobble hats ensuring everyone stays wrapped up in style.
FINISHING TOUCHES - Hand crafted sterling silver jewellery and perfectly priced gift jewellery provides the ideal finishing touch to any collection, with fine quality finishes and unexpected details elevating each design.