04 Jul 2023
12 Days of Christmas - Advent Calendar and new Pop at Home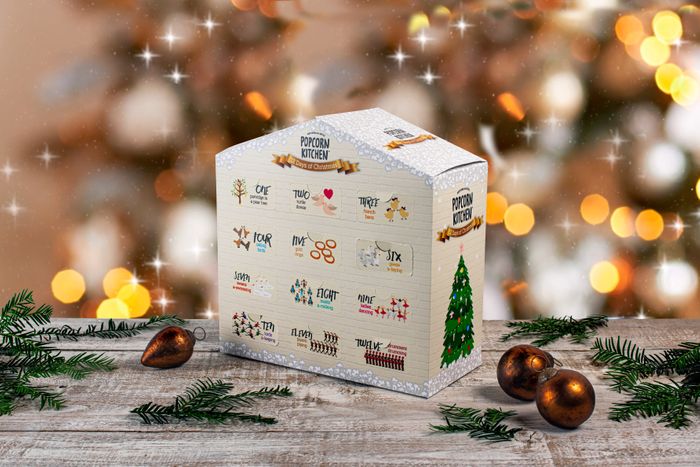 nly a few months on from their most successful home gifting launch ever and Popcorn Kitchen are setting up stall to provide a 2nd wave of 'home-poppin' popcorn joy with a Summer launch of 3 NEW gifting offers with a sumptuous seasonal twist. The 3 filled-to-brimming bottles include a Halloween Special (complete with spooky electric orange chocolate buttons), the dreaded Christmas sprouts (but of a sweet milk chocolate persuasion) and timeless White Chocolate Jazzies (a nostalgic pocket money treat from yesteryear).
As with Popcorn Kitchen's original Home Poppin Bottles, the gift's essence is creating top notch home poppin kits for parents & children to create the perfect movie night treats. Each kit is rammed full of best-in-class mushroom popcorn kernels, the height of sweet popcorn sophistication, a generous smattering of Belgian chocolate chips, the all-important seasonal topping and foolproof preparation instructions.
According to 'Popcorn Preneur,' Louise Monk, 'We're massive fans of fostering impromptu family cooking and freshly popped sweet treats and these easy-to-use kits provide the perfect home-cooking setting that culminates with an impromptu family film night.'
12 Days of Christmas Gift House
If that wasn't exciting enough, Popcorn Kitchen is also using the Summer season to launch its 12 days of Christmas Gift House. Why settle for an advent calendar of sweet treat titbits when you can have 12 whole packs of moreish popcorn heaven? Each Gift House is jam-packed with 8 deliciously distinct, Popcorn Kitchen flavours including: Salted Caramel, White Choc Raspberry, Chocolate Orange, Cherry Bakewell, Chocolate Brownies, Cheddar Cheese, Lemon Drizzle and Mint Chocolate.
'Everyone loves an advent calendar,' concludes Louise 'however the moment of happiness literally lasts a nano second. Thanks to our all-singing Christmas Gift House, the ultimate sweet treat moment lasts significantly longer.