21 Jun 2022
Artist Kitty McCall joins mission to make Granny trollies cool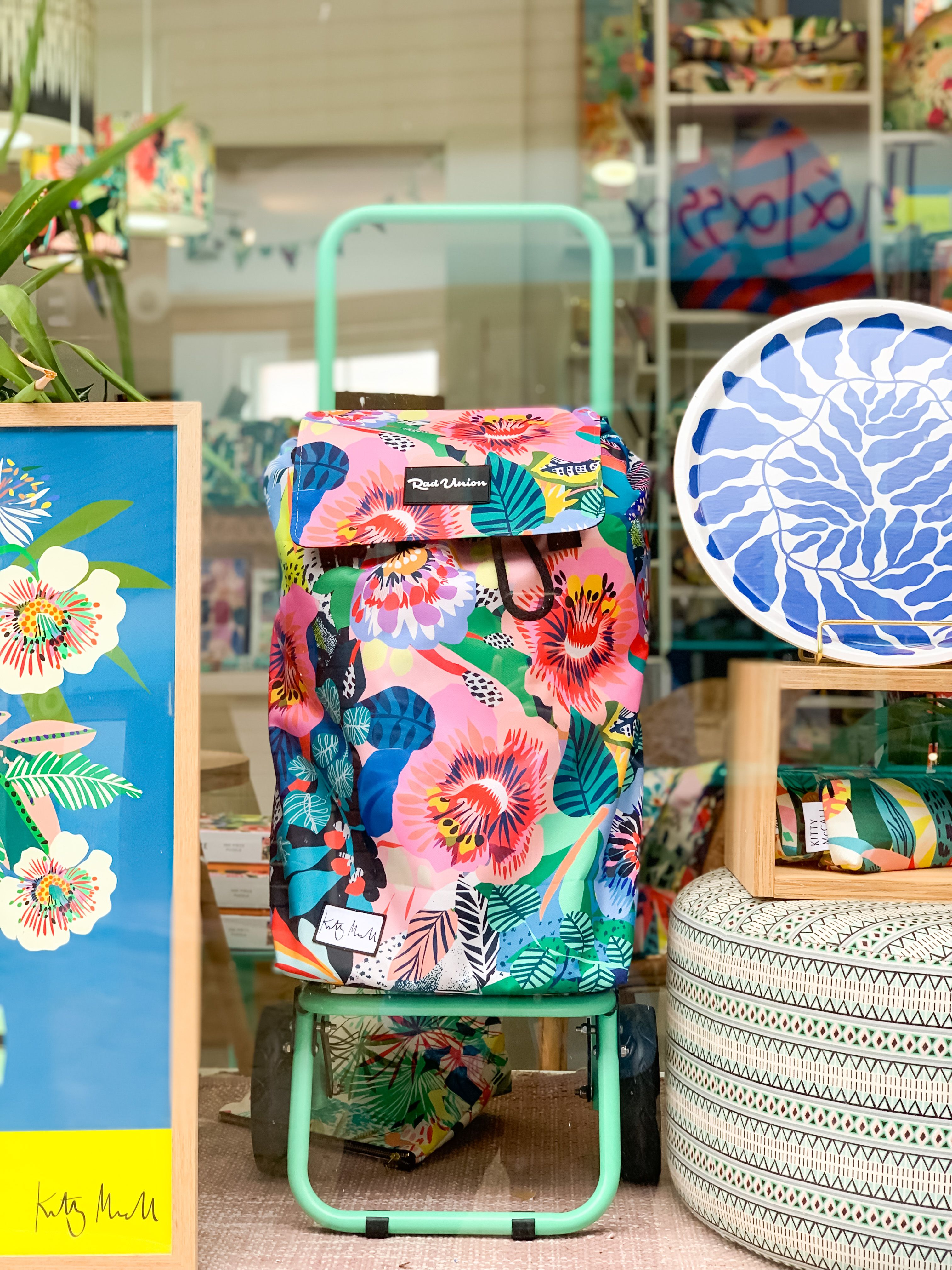 Folkestone-based artist, Kitty McCall, is the latest creative to collaborate with Rad Union, the only brand to reinvent the infamous Granny shopping trolley and make it cool!
Stylish, sustainable, practical and made to last a lifetime, a Rad Union trolley is the ultimate accessory for local shopping. Not only does it look great, it makes carrier bags obsolete. ​
It's art on wheels
Rad Union teams up with the coolest artists and creatives to design the bags for its bold and brave trollies. In fact, you could say, the trollies are works of art themselves. The brand-new bag designed by Kitty McCall is Rad Union's most colourful to date, featuring her best-selling Summer Garden print, a vibrant, modern, floral design, which can be seen on fabric, lampshades and wallpaper. Now, it's available on wheels too! It's available this summer with mint green frame and pink wheels, from www.rad-union.com and Kitty's very own shop, in the heart of Folkestone's old town.
How does it actually work?
Rad Union trollies are built to last a lifetime. They're the only trollies around that have bearings inside the wheels, meaning they work, properly, gliding with ease. The steel frame is made with high quality component materials, meaning it's lightweight, but strong. It's also welded and treated by hand. It can be folded once unloaded too, for simple storage at home. The trollies hold up to 35 litres and 20kg in weight. They even feature nifty hooks, so that they can be clipped onto a shopping trolley in the supermarket. The limited-edition bags are even interchangeable, so a new look can simply be clipped onto an existing frame.
Wave goodbye to carrier bags
Not just making a style statement, Rad Union trollies also take a pretty bold stand against carrier bags. Now, there's no excuse to leave the car at home, ditch carrier bags and shop the high street with pride. The trollies are packed with only recycled, sustainable and biodegradable packaging too.
Rad Union trollies are assembled by hand, in Leeds. The Kitty McCall limited edition Summer Garden bag is available now, priced £140. Visit www.rad-union.com for more information.
Ends
Media contacts
For more information, imagery or interviews, please contact Julia Cross on julia@eatandgreenpr.com