05 Jul 2023
EUGY the fanstastic eco-friendly gift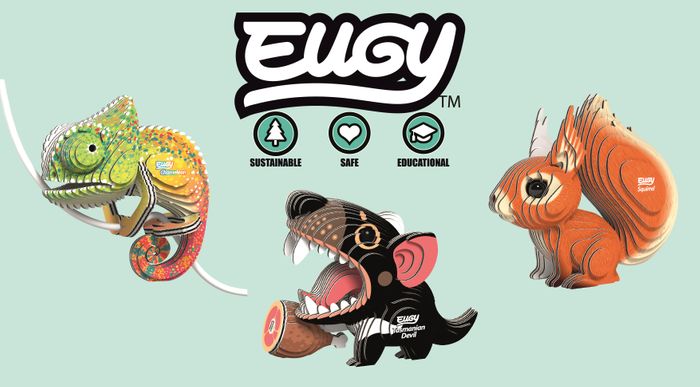 The EUGY craft craze shows no signs of abating in 2023 and gift retailers can now add more new additions to their existing range. At the recent Spring Fair, EUGY proved extremely popular with retailers with many looking to restock the line which had proved a bestseller.
For the uninitiated, EUGY is an eco-friendly arts and crafts phenomenon, launched in the UK in 2019 and is owned by New Zealand based Dodoland. Made from environmentally friendly, biodegradable card with natural eco-friendly ink and non-toxic glue, EUGY models can be built by following a simple number sequence. Each pack also features educational fun facts about the animal. Children love the EUGY range because of its creative and collectable possibilities and parents love the impulse price point and the all-important sustainability factor.
There are currently 53 EUGY models in the range. New additions have included Moose, Squirrel and Spino with phased introductions of new models planned during key selling periods of 2023. Since their launch in the UK, brand awareness continues to grow with the range supported by marketing and PR initiatives throughout the year with media coverage and dedicated influencer campaigns.
In addition, Brainstorm Ltd have developed their own environmentally friendly range of FSC certified wooden POS including FSDUs and CDUs to allow retailers to merchandise the product to full effect while staying true to the brand's sustainability values.
For further information, please contact: sales@brainstormltd.co.uk
Telephone: 01200 445113
Website: www.brainstormltd.co.uk