13 Apr 2023
Island heritage is source of inspiration for Shetland artist creating watercolour wonders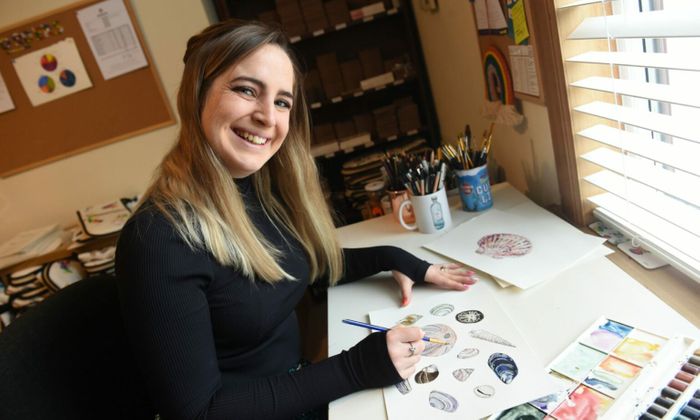 For an artist like Sarah Leask, her visually stunning home is the perfect muse.
"People have such a strong connection to where they're from when they're from an island," she said.
"It's a weird thing, and I really noticed it when I first went to uni, I'd just be talking about Shetland as if I was way too into it."
Sarah's work is punctuated by the flora and fauna of the islands, and celebrates the beach combing treasures that line its sandy shores.
Though she now lives in Aberdeen, her roots are still stretch deep into home soil.
Finding her passion
"I was always drawing, I have brothers so I was always by myself doing that when they were playing the PlayStation," she said.
"I fell out of it a bit as a teenager, I feel like school pushes you towards a more academic career because they don't know what you can do with art.
"I actually got into uni to do a psychology degree, but when it came to it I didn't want to go, so I stayed in Shetland another year and did a portfolio year at Shetland College."
Having rekindled her love of art, Sarah left Shetland to attend Gray's School of Art, selecting a graphic design and illustration course.
After graduating she worked as a kitchen designer, but her real passion lay in working on her own creations, which she was selling at local markets.
The map to success
Though the link to Shetland in some of Sarah's newer collections is less obvious, the first print that projected her name out into the world as an artist couldn't have been closer to home.
"I painted a watercolour of the Shetland map and people loved it," she said.
"I put it on Instagram and loads of people wanted to buy them. I approached a couple of shops in Shetland when I was home one time, I did the map in different colours schemes and printed them out then just went into shops.
"When I think about that now it was pretty crazy, but because I kind of knew people it wasn't as scary."
Sarah's maps were a hit, so she decided to take advantage of Scotland's many islands.
Now, her multicoloured repertoire includes everything from Arran and Islay to Orkney and Lewis.
More than maps
As interest in her work kept growing, Sarah figured out ways of expanding her collection while still expressing her Scottish flare.
Her ranges now include Heather and Honey, Sea Treasures and Wildflowers.
In true Scottish fashion, there is also a tipple or two.
Sarah said: "I did wedding stationery for my brother and his wife, it was at the time when everyone was super into gin so they wanted illustrations of the gin bottles to match those that were on the tables with flowers in them.
"My friend saw it and wanted the same but with whisky bottles, and people loved them, so I created a product range with those designs too."
Sarah's favourite range is her Wildflowers collection, which aims to change the narrative surrounding a commonly known fact about Shetland.
"People always say there are no trees in Shetland, and there aren't really, but there is a lot of other stuff," Sarah explained.
"There are a lot of wildflowers especially, coastal ones too, so that's where that came from."
Sea Treasures comes from personal family memories she hopes others can relate to.
Sarah said: "My mum says my denim jacket was always full of random things I'd found on the beach.
"It's a competitive industry so I always want to try and do something different, and there aren't a lot of coastal designs like that."
Island connections
Sarah sells prints of her intricate paintings on her website, as well as homewares and gifts featuring her designs.
She also enjoys working with people on personal commissions, like wedding bouquet paintings and pet and home portraits.
"There are so many different parts to what I do, I've come to love the business side of it too," she said.
Her watercolour style started out of convenience – a mostly mess-free medium in a student flat – but evolved into her trademark.
No matter how much she and her style evolve, Shetland will remain at the heart of Sarah's work.
Sarah said: "My whole idea is helping people hold onto that connection to a place.
"There are two sides to it, the people who are from there and are proud of it and the people who have visited and absolutely loved it.
"There's something about the islands, they have a hold on people."