Launch of the New Nebulous Plume by Esterbrook's collaboration with Ferris Wheel Press!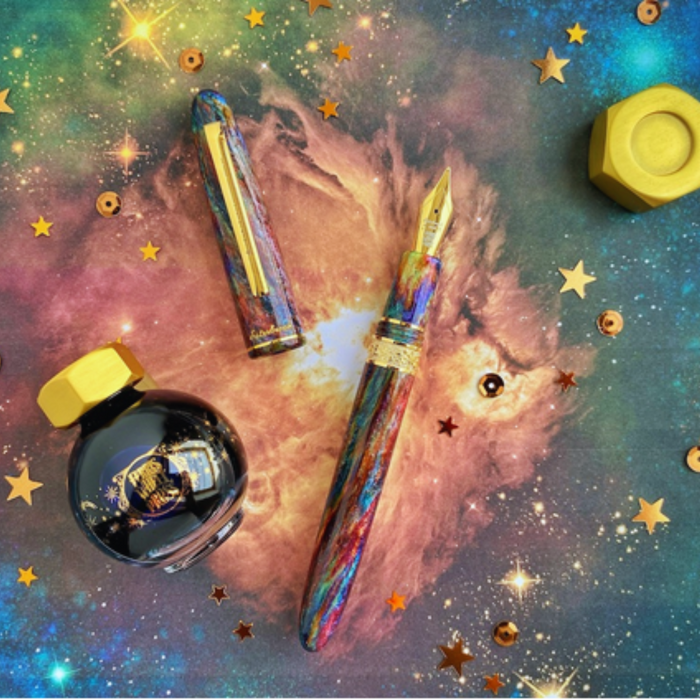 This Esterbrook X Ferris Wheel Press is an iconic collaboration, full of sparkle and colours much like the two brands themselves!
The name "Nebulous Plume" evokes a sense of wonder and exploration. It conjures up images of vast, uncharted galaxies and the possibility of new discoveries. This is exactly the kind of storytelling that Esterbrook and Ferris Wheel Press are known for. The pen itself is a work of art. The six-color DiamondCast material is reminiscent of the swirling clouds of gas and dust that make up nebulae. The wax casted ring adds a touch of elegance, while the gold-plated clip with star engravings provides a subtle nod to the pen's name.The ink is a beautiful interpretation of the pen. The custom blended FWP ink is a deep, rich blue that is perfect for writing letters, journaling, or taking notes. It is sure to add a touch of elegance to any writing project. The packaging for the Nebulous Plume is just as impressive as the pen and ink. The galactic themed box features rocket ships, astronaut animals, and stargazing. It is a truly unique and special presentation that is sure to be appreciated by any fountain pen enthusiast. The Nebulous Plume is a truly special pen that is sure to be a cherished addition to any collection.