NEW! Esterbrook Estie... The Botanical Gardens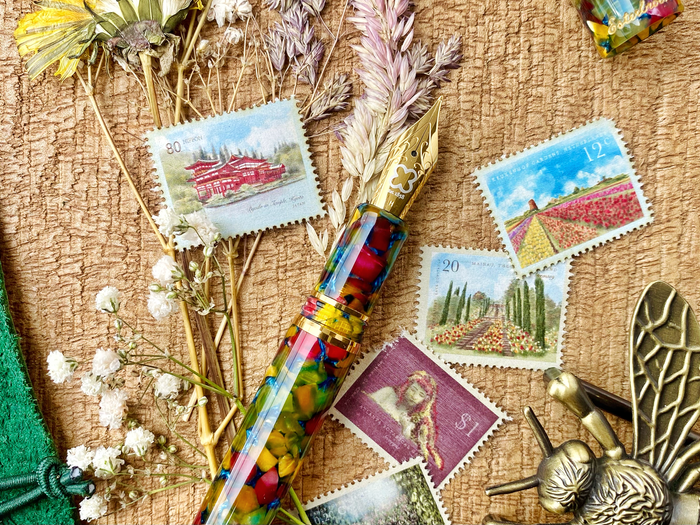 The Estie is a tribute to the Esterbrook brand and its storied history. Short for Esterbrook, the Estie evokes a feeling of 1930s nostalgia; a time when fountain pens were an integral part of life and communication for most Americans. The Esterbrook Estie comes equipped with a quality JoWo No. 6 nib and a lock seal, cushion closure in the cap. There are 7 core Estie colours - Ebony, Tortoise, Honeycomb, Sea Glass, Nouveau Bleu, Scarlet and Botanical Gardens. Other colours are either seasonal editions or premium editions. You can take a step back in time with the specially engineered MV Nib Adaptor, which allows you to use a vintage Esterbrook nib with a modern Estie.
Using high-quality acrylic, Esterbrook have created a pen that doesn't just pay homage to springtime gardens – but celebrates them. In each pen, you will find a kaleidoscope of floral accents, from greens to blues, deep reds to oranges, all displayed in a crackle-like pattern that intrigues the eye and inspires the imagination.
Botanical Garden comes in both gold and palladium trim. You have a choice of both oversized and regular fountain pens, as well as your pick of fountain pen nib, rollerball, or ballpoint. Estie Botanical Gardens will be a Core (not a limited edition) colour.
The first 1000 Botanical Gardens fountain pens will come with a stunning stamp set featuring 12 beautiful illustrations of botanical gardens from around the globe, including Kew Gardens here in the UK. The stamps come packaged inside a printed envelope that has perforated edges that tear away to reveal a Botanical Garden themed postcard.