Stitching Me Softly - SS22 Press Release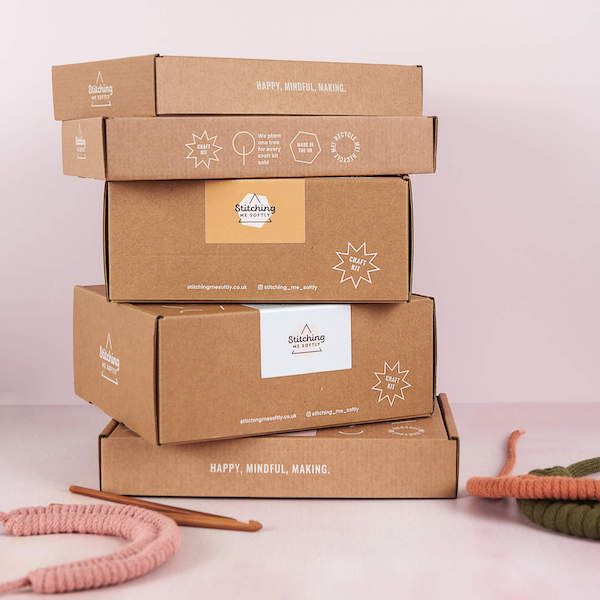 INTRODUCING: STITCHING ME SOFTLY
Stitching Me Softly is a contemporary crochet and craft kit business based in Bristol. Passionate about sustainability, the brand uses 100% recycled cotton rescued from landfill and plants a tree for every kit sold! Kits start from just £15 and there's something for everyone, from newbies to confident crafters. Each kit contains everything you need to complete the project, great for a relaxing mindful afternoon of creativity or for a fun day crafting with friends or family.
BRAND NEW FOR 2022
Sunbeam Clutch Bag Kit (£35)
This kit will teach you how to create your new favourite summer accessory! It contains all the materials and tools required to make a stunning recycled cotton clutch bag. Perfect to show off at sunny garden parties and summer weddings.
You'll learn basic crochet techniques and once you're comfortable with them you can curl up on the sofa and make a start on your bag. This project is a nice quick on and after a chilled afternoon of crafting you can take your new bag on its first outing. Available here.
BEST SELLERS
Crochet Basket Duo Kit (£35)
This kit contains everything you need to create two crochet baskets with lovely tactile textures, in a choice of two colours – there are eleven to choose from.
Adding a pop of colour to any room, they can be used for everything from craft and desk tidies to bathroom storage or a new home for your favourite plant! Available here.

Woven Necklace Kit (£20)
This kit uses a simple macrame knotting technique that is suitable for both beginners and advanced crafters.
You can whip one up in no time at all and each kit contains enough cord to make three necklaces in your three chosen colours… because one just isn't enough! Available here.
Friendship Bracelet Making Kit (£15)
This kit contains everything you need to make around 15 of your very own multicoloured friendship bracelets! These are a great retro gift suitable for all ages and abilities.
Choose between a bright or pastel mix and once you get going, you'll be hooked! The cords you make can also be turned into necklaces, keyrings or incorporated into other craft projects! Available here.
Visit Stitching Me Softly online find out more and explore the whole range. You can also follow the brand on Instagram and Facebook.
-ends-

Media contact: For more information about Stitching Me Softly, please contact Emma Bassey: stitchingmesoftly@gmail.com