12 Jul 2022
UpCircle Beauty is a Plastic Negative Brand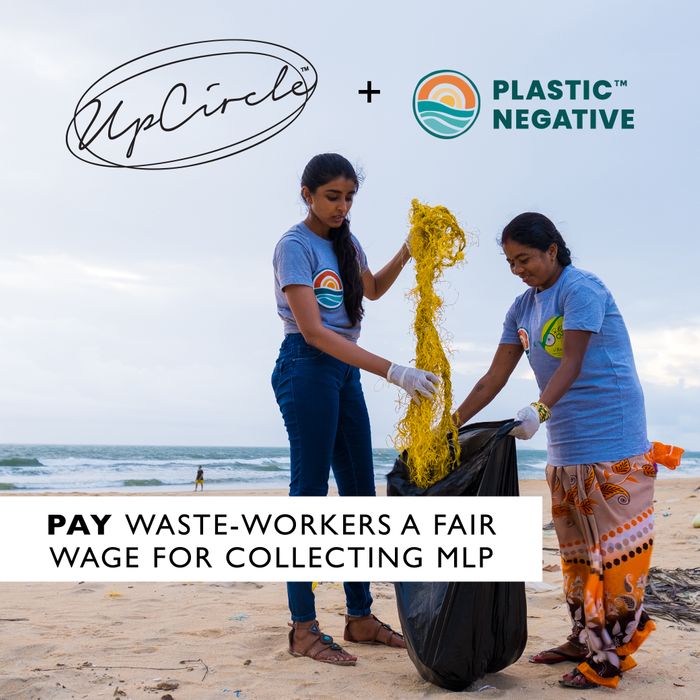 ANNA BRIGHTMAN, CO-FOUNDER
"UpCircle was founded on seeing value in things that already exist. That's why we've upcycled hundreds of tonnes of leftover natural ingredients and saved thousands of pieces of packaging. Now we're turning our attention towards plastic pollution.
As a business we have always been committed to reducing our plastic use wherever possible, for example, we recently repackaged our signature coffee scrubs into glass jars with aluminium lids. We also offer plastic-free refills across our entire product range. As the next step it was a no-brainer to actively remove plastic from the environment. Which is why I'm thrilled to announce our partnership with rePurpose Global, we now remove more nature-bound plastic than we create as an entire business. UpCircle is officially a certified Plastic Negative brand!
It wasn't enough to become just plastic neutral or 'offset' our plastic, we had to go a step further and become Plastic Negative."
PROJECT "SAAF SAMUDRA"
It's reported that $30 billion** is needed per year to
stop plastic leakage into nature. The biggest plastic
polluter is multi-layered-plastic or "MLP" for short, a
form of packaging used heavily by the beauty industry.
This type of plastic cannot be recycled and as a result
ends up contaminating the ocean and endangering
wildlife.
Through our partnership with rePurpose Global we
fund an impact project in Goa, India, called Project "Saaf
Samudra" which means "clean sea" in Hindi. This project
removes MLP from Goa's coastline, before it enters the
Arabian Sea. The plastic recovered through Project Saaf Samudra is all low-value plastic (MLP) that would not have otherwise been
removed without our funding; MLP in India has no commercial value as it cannot be recycled. Our partnership with rePurpose
Global empowers the waste-workers with a fair wage as well as economic subsidiaries, health insurance and access to a
dignified and inclusive workplace.
"Plastic pollution is as much of a human problem as it is a planet problem. Waste-workers often have no access to healthcare,
secure pay or formal workplaces. UpCircle and rePurpose Global are changing that for the fifteen workers at Project Saaf
Samudra in Goa." – Anna Brightman
HOW IT WORKS:
Once the plastic is recovered it's brought to the co-processing
centre where it enters back into the product lifecycle. The minerals
are extracted for use in cement production and the energy is
recovered from plastic. Not only does this prevent plastic entering
Goa's coastline, but the recovered plastic replaces the use of coal
and other fossil fuels which in turn reduces greenhouse gas
emissions – win, win.
As a business we are funding the recovery and removal of nearly
2,000kg of plastic through our partnership with rePurpose Global.
In other words, that's nearly 1 million single-use plastic pouches!