01 Jul 2022
Gin O'Clock | Gin Botanical Spice Selection of 8 Tubes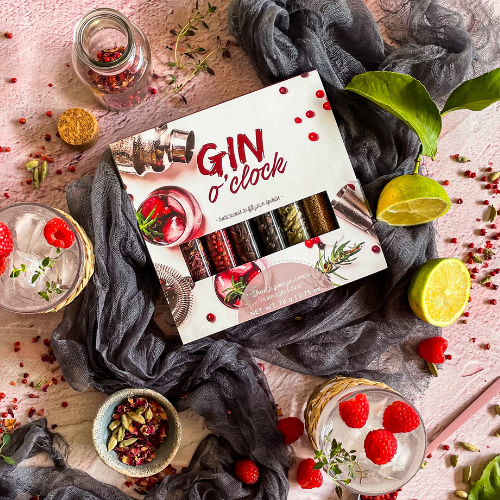 EXPLORE AND DISCOVER YOUR GIN INFUSIONS with this premium selection box that is perfect for gin lovers who enjoy experimenting with flavours and adding the wow factor that leaves a lasting impression with friends and family, making it a great gin present for any special occasion.
LIFT YOUR SPIRITS AND ADD SOME PIZAZZ TO COCKTAILS as this collection of spices is not just for gin but for inspiration on any alcoholic drink, making it an essential ingredient and garnish selection in any home bar.
Presented in a gorgeous slide carton that is ready to go as a gin gift adding a bit of flair to any celebration.
Selection of Botanicals contains:
Coriander seeds: Warm, nutty flavour.
Rosemary: Herbaceous, typical of rosemary.
Pink peppercorns: Aromatic, peppery flavour.
Hibiscus flowers: Acidic, tart berry flavour.
Juniper berries: Herbaceous, fresh flavour. Typical of juniper berries.
Citrus zest: fresh, citrusy and tangy – typical of citrus.
Cinnamon: Warm, sweet woody notes.
Thyme: Herbaceous flavour. Typical of thyme.