The Nutcracker - Felt Garland Kit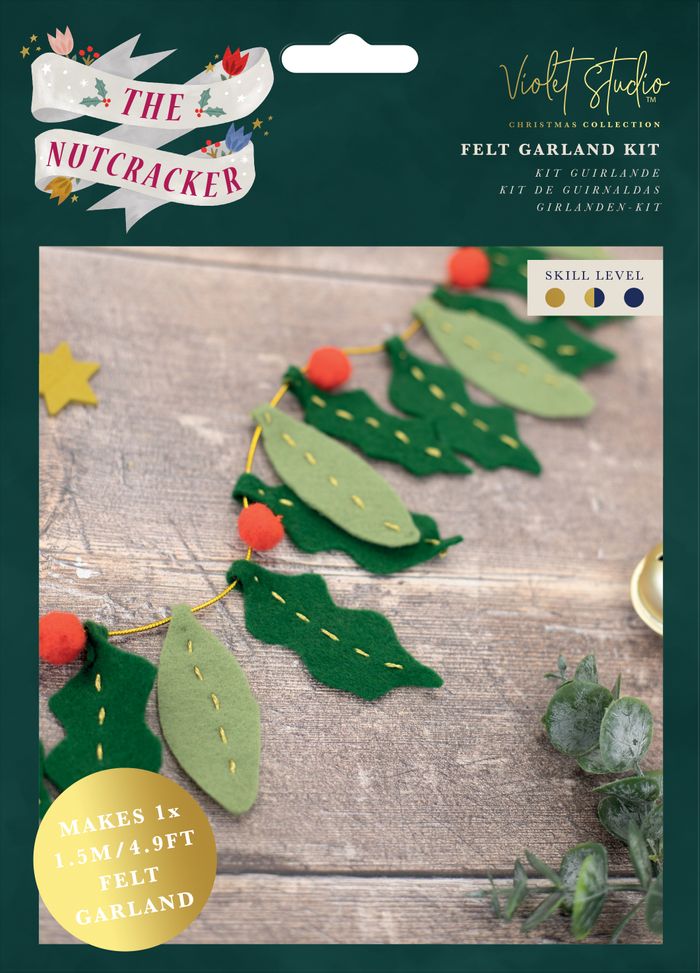 Whisk your Christmas card, craft and handmade gifts away to a fantastical world of snow-frosted forests, whimsical characters and cosy charm with the Violet Studio Nutcracker Collection.
This enchanting papercraft and sewing collection invites you to tell the traditional story of the Nutcracker through handmade Christmas decorations, stockings, cards and gifts!
A full cast of characters, from Clara and the Mouse King to the Nutcracker himself, are brought to life in folk-inspired illustrations. And a palette of velvety red, sugarplum pink and forest green combine with textural trimmings and antique gold accents create a festive and opulent look.
Deck the halls with boughs of handmade holly with the Nutcracker Felt Garland Kit! This set has everything you need to stitch a festive garland of holly, red berries and mistletoe leaves! With templates to cut the shapes and full instructions included, all abilities can craft a 1.5m garland to hang up this Christmas!
The Nutcracker Felt Garland Kit includes:
4 x felt sheets

Template

2 x embroidery skeins

Embroidery needle

Thread holder

12 x pom poms

Instructions
You will also need:
Pins

Scissors

Tape (optional)

Kit to create a festive felt garland

Includes felt, pom poms and thread

Plus a template and step by step instructions

Part of the Violet Studio Nutcracker Collection
Categories
Arts & Crafts
Gifts
Textiles & Fabrics