01 Jul 2022
Spice of Africa | Traditional African Spice Selection of 10 Tubes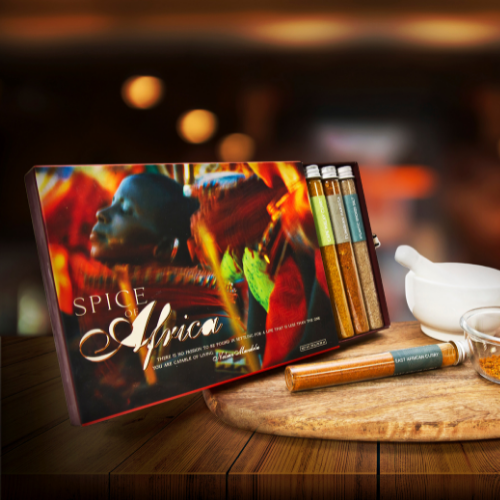 PREMIUM CONNOISSEUR AFRICAN SPICE Colourful as Africa, unusual and different traditional spices for African dishes. Enhance your choice of cultural cuisine with hearty flavour, bold taste and vibrant aromas:
Set of 10 Traditional Spices includes:
Egyptian Dukkah – A warm blend of toasted seeds and spices, Dukkah is a versatile and aromatic essential to any pantry.
Moroccan Ras El Hanout – Highlights the rich, aromatic style of tagline cooking typical of North African cuisine adding flavour complexity to any meat or vegetable dish
African Herb – The flavours of tangy lemon and wild garlic together with the freshness of parsley are true African favourites and add zest to any dish
North African Berbere – A traditionally fiery and vibrant all-purpose spice blend considered a flavouring foundation in North-African cuisine
Tunisian Harissa – Delight in the peppery-piquant flavours perfect for use with more exotic cooking styles
Cape Malay Curry – A delicious fusion of Asian and European tastes from the 17th century, a sweet and spicy mix of meat, fruit and spices using a fragrant blend of 13 exotic spices
Winelands Sea Salt – The finest hand-harvested sea salt from the South African West Coast infused in red wine, making it a delightful finishing salt
Traditional Braai – Braai is a South African term for barbecue, a bbq spice mix with warm woody aroma and spicy flavour, making it the perfect meat seasoning for the grill
Atlantic Smoked Salt – Sea salt infused with wood smoke adding a subtle smoky flavour to everyday dishes
East African Curry – Coconut-based chicken curries with Arabic, Indian and African influence, smoky flavours infused by char-grilling the chicken before adding to the coconut curry base
RECIPE IDEAS PRINTED ON THE BOX - each spice comes with simple traditional African food pairing ideas to get the best authentic results and set you on your way.