York Gin Grey Lady 70cl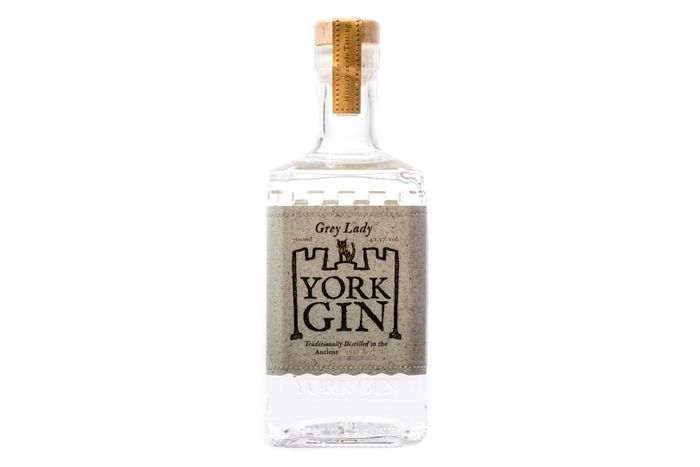 About York Gin Grey Lady 70cl
This gin is inspired by one of Ancient York's most famous ghosts, the Grey Lady of the Theatre Royal. (York has the reputation as Europe's most haunted city.) 'History in the Tasting'.
Bergamot from Earl Grey tea and extra lemons and oranges make this gin perfect for citrus lovers. It also has a haunting blue-grey hue from pea flower.

Gold medal winner, London Spirits Competition 2022
'A masterpiece in subtlety' - Sunday Telegraph
Made in a small, sustainable York distillery powered by 100% renewable electricity. The bottle and packaging are plastic free and made sustainably in Yorkshire.
Other awards
Silver medals:
- International Wine & Spirit Competition (IWSC)
- New York International Spirits Competition
- Spirits Business Gin Masters.
Reviews
'Grey Lady is a masterpiece in subtlety, with a very pale blue-grey hue, and soft, delicate notes of citrus from the bergamot found in Earl Grey tea. It's great on the rocks.'
- Sunday Telegraph
'Zingy citrus and fresh herbs with a little creaminess on the palate, and an increasingly influential mix of spices and roots.'
- IWSC
'Deliciously subtle containing a wonderful surprise - the bergamot is exactly right ... It is quite simply divine.'
- Yorkshire Times
Perfect serves
Ghostly G&T:
York Gin Grey Lady, premium light tonic, lots of ice. Garnish: Orange peel .
Grey Garden:
50ml York Gin Grey Lady, 25ml sugar syrup, 25ml Elderflower liqueur (elderflower cordial), 100ml cloudy apple juice, mint, ice.
Slap the mint with your palms to release the aromas and oils, and pop it in the cocktail shaker. Add gin, sugar syrup, elderflower liqueur into the shaker and top with ice. SHAKE! Fill your glass of choice with plenty of ice, and pour the cocktail mixer over the top. Garnish with mint leaves or a slice of citrus fruit.
Tasting notes
ABV: 42.5%
Botanicals
Juniper, coriander seeds, angelica root, cardamom, cinnamon bark, dried lemon peel, orris root, black pepper and grains of paradise, Earl Grey tea, dried orange, blue pea flower.