01 Jun 2023
Behind the Brand | Jane Haigh Country Art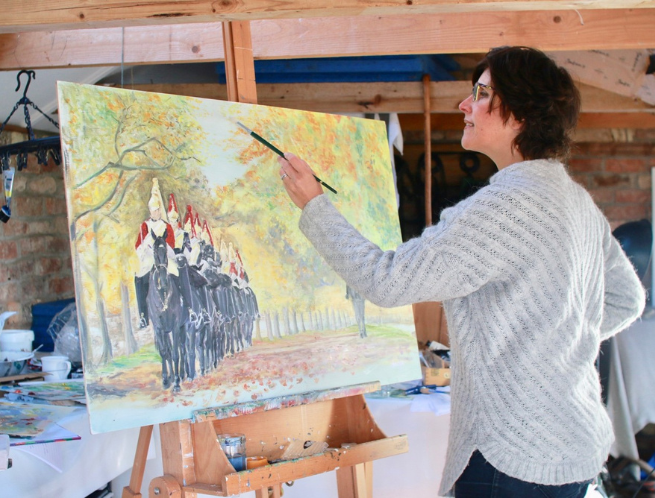 Get whisked away to the countryside with Jane Haigh Country Art. Jane's creations not only offer stunning original paintings but also a variety of high-quality prints and merchandise, allowing animal lovers to bring a piece of her enchanting artwork into their homes. Explore the world of Jane Haigh Country Art, where animals come to life on canvas and capture hearts with their beauty and charm.
Tell us about your brand; what inspired you to start your brand? Where did you get the idea for your products?
For as long as I can remember I have had a great love of animals. I grew up surrounded by them and would always fall for the runt and was first on the scene with a bandage when one was hurt. When I was a teenager, I remember nursing Goosey the Goose's poorly leg back to health with my younger siblings. We even helped his mobility during his recovery with my brother's skateboard. I dreamt of being a vet. So, when it came to making subject choices at school, I went down the science route. I didn't get the grades but went on to study Biology and Rural Science at University in York. University taught me about animal anatomy which I have brought to my art. I might not be able to make animals better as a profession, but I can paint them better!
I've always been arty, growing up I was often found with a pencil in my hand, creating art. When we were little and went on holiday my crayons had to come too. Art is my life. I love using colour in playful ways when I paint. Every animal is unique in its character, I study each one before I even pick up a brush, it might be a particular stance, tilt of the head, or a glint in its eye. When I look at an animal, I am drawn to its eyes and if I can capture the particular expression then everything else kind of follows.
The Jane Haigh Country Art brand started a few years ago. I decided to crank my old printer into action, (with fingers crossed that it didn't chew the paper as usual) and print some small images of my paintings and stick them onto plain cards. While they had a certain amateurish charm (looked a bit rubbish) I quickly realised that to have a professional-looking, scalable product I would need a professional printing company. I found a local firm in Lincoln who were happy to help get me started, they are great to work with and so handy.
All my card designs, and other products begin life as a painting on canvas. The images are professionally photographed or scanned, and then my son works his magic by editing them with funky fonts. I started selling my cards at local events alongside my paintings and prints. People liked them! I hauled on my brave pants, donned a big smile, and approached a few local independent shops with boxes of cards in the boot of my car, what was the worst that could happen? Happily, the shops liked the cards and placed orders. I was on cloud nine and with this new confidence carried on meeting more shop owners.
My son works away, (he returned from France 3 weeks ago and has just gone to New Zealand to work for a few months), so as soon as he walks in the door after the hugs, he is placed in front of the computer to edit my new ideas for products. I source British companies to make them for me as I like to have a short supply chain with firms who can fulfil orders promptly, transportation isn't an issue and I think it's good to buy local.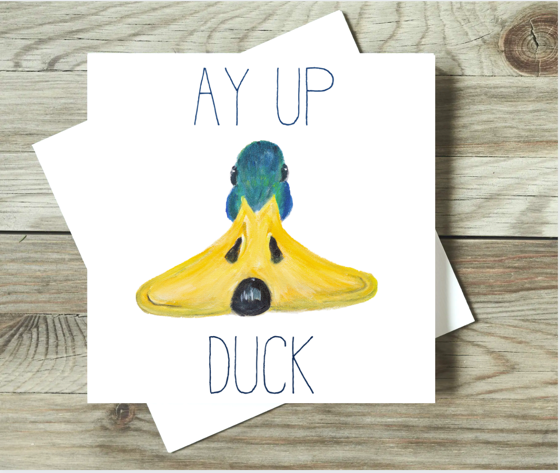 I like to tap into regional humour and sayings when creating my designs. For example, I painted a comical duck, because in Lincolnshire and surrounding counties "Ay Up Duck" is a known greeting. This has proved very popular and raises a smile. So, if shops in certain counties have a particular saying or breed of animal they think would make a good design, then I am happy to chat and create a range of bespoke cards.
How long has your brand been operating? Have you been at Home & Gift before?
Although I have been painting for some years, my brand, Jane Haigh Country Art began in 2018. Initially selling greetings cards. It has grown each year; with an increased product range and this year I decided to take the plunge and attend the Home and Gift Festival for the first time. In fact, this is my first ever trade fair. I chose the Harrogate Home and Gift Festival after speaking to independent shops; they all recommended this event because it is friendly, and has a more casual atmosphere, and they as buyers enjoy this experience.
What's your biggest highlight of owning your brand? Why do you love what you do?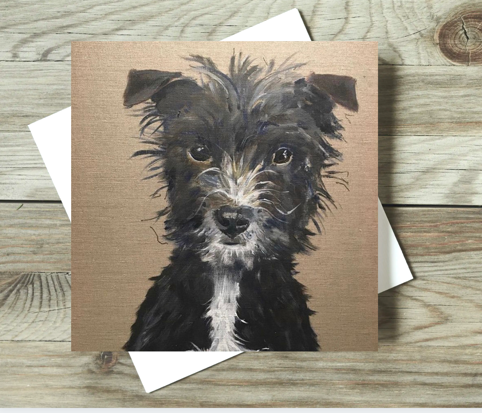 An artist's life is a pretty solitary one, spending hours in the studio staring at a blank canvas. So when I got the chance to exhibit at our local County Show for the first time I signed up with mixed feelings. I needn't have worried. It was AMAZING! I got to see people's reactions to my work and products – they were nudging each other, smiling, and pointing at my cards, and buying them! Experiencing their reactions was magical for me. At other events I sometimes get to share a stand with my daughter, which is just priceless. We laugh all day.
Seeing my cards in the Lincolnshire Co Op as part of their "Love Local" range for the first time was another highlight. I mostly sell to independent small stores, so when the Co Op picked up on my products it was a thrill, and the fact that my brand is a local one and is highlighted as such keeps an independent feel to being stocked there. I am not a faceless brand, but a recognizable local one with local branding emphasizing this. I am now in some 30 of their stores.
I love being able to combine my creativity and grow my business. Painting people's animals creates a lasting connection, especially when they are chosen to be on my products. When I approach the owners of pets I have painted, they are thrilled that their pets get the chance to become famous by having their faces on my greetings cards. Many of my cards feature real animals with a back story. For example, Lola, one of my most popular designs belongs to my brother. She only lives about 3 miles away and I take my whippet, Audrey for play dates. Dotty the terrier lives in Wales. Her owner's niece lives locally and came to see me with some photos of Dotty. We chose a particularly cute one to paint and she was so pleased when I asked if I could use Dotty's painting on my products – she is quite a star. I met some seaside donkeys one chilly morning on a Lincolnshire beach, they looked typically unimpressed. I painted them at home, and they have made a popular card. Dave is a bit of a local star on the show circuit. He is a very handsome Kerry Hill sheep, and he knows it!
Looking back, what advice would you give to yourself when you first started out?
Although I have always been arty there is a big difference between being creative and creating a business. I think one of my biggest struggles when I started out was self-belief. I had brought up my children, who had fledged and so this was now my time to flourish. I had always put my family first, so when I became an empty nester, the time was right to push myself. I used to attend small events with my art and products, but I should have tackled wholesale sooner with a professional approach. (instead of entering a shop just flinging cards around!)
Being a one-man band is sometimes a struggle because every decision is made by me, it can also be lonely. When it came to pushing on and growing my business, I knew it had to be done in an organized, structured way with processes in place such as inventory, record keeping, invoicing etc. This was when I admitted to myself that I needed help. Lincoln had a Growth Hub run by the University of Lincoln, I joined up and gained invaluable advice and contacts. What else was great was that I met lots of other small business owners who were experiencing the same issues as me. Now I have an online catalogue with easy ordering in place. I have proper stock control and office procedures in place. This is all very well, but it doesn't stop me from putting my car keys in the fridge and dipping my paint brush into my tea when I am engrossed in painting!
What can we look forward to seeing from your new collections that you are bringing/launching at Home & Gift?
I am so excited to be able to show my new products off to everyone at Home & Gift. Some have never been seen before! My new placemats and coasters are made in Lincolnshire by a long-standing well respected company. They are cork backed and made from eucalyptus melamine. You will see and feel the quality and the gorgeous designs featuring all my favourite characters. I am also brining along some prints. I have a small range of affordable art available mounted or framed. The prints fit a standard 12" frame.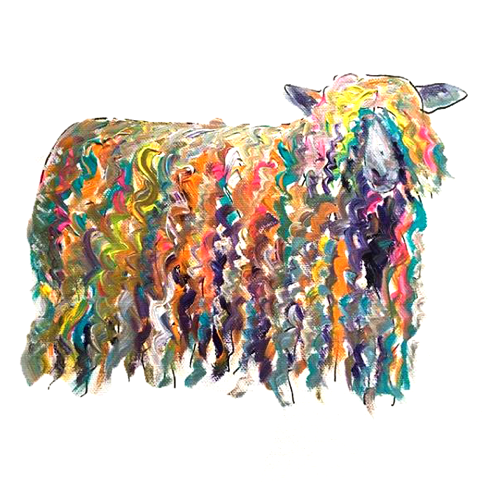 Do you have any personal favourites from your new collection?
I have two all-time favourite characters which feature on my growing range of products, along with others. Rainbow Longwool sheep is my pin-up girl. She is on my branding and is instantly recognizable. She is so colourful and cheerful – she is on a range of cards, and you will spot her on other products too. Lola is my brother's dog. She is a very popular design and is being launched as wrapping paper at the Home & Gift festival.
What are you most excited for when exhibiting at Home & Gift?
I can't wait to greet buyers to my stand (Hall B 44B) and show them all of my latest products. I look forward to sharing the back stories of the designs, and hope that they like the authenticity of my British made brand. I am really looking forward to building lasting relationships with shops, I am open minded and happy to take on board suggestions from experienced shop owners and buyers, and will value any feedback to help me on my journey.
How do you operate your brand sustainably?
I source all my products as locally as possible. This shortens supply chains, shrinks carbon footprints and supports local businesses. I use biodegradable wrappers for my cards. These keep the cards in pristine condition and because they are compostable are guilt free.