15 Jun 2023
Behind the Brand | Every Nook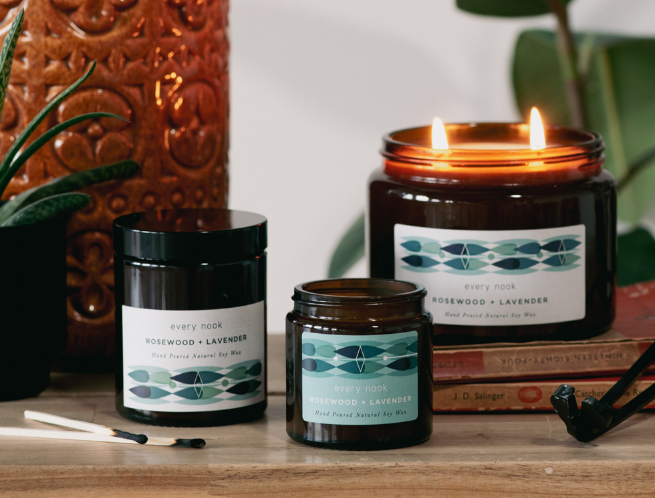 Discover the meticulous craftsmanship behind each Every Nook candle. With carefully curated scents brought to you by owner and founder Emma Robinson, uncover the diverse range of stunning designs that effortlessly blend with any décor style.
Tell us about your brand; what inspired you to start your brand? Where did you get the idea for your products?
I first started making candles whilst on maternity leave from my job in the beauty industry. I loved working with fragrance, making my own products and discovering the many benefits of soy wax. Not to mention the bonus of having so many lovely candles around the house to cosy up with once the kids were in bed!
Another passion of mine is vintage and retro homeware. The prints, colours and shapes from the Mid-Century era specifically. Whenever it's possible I'm regularly found rummaging around charity shops for any hidden treasures. I believe strongly that your home should have a personal and individual feel. Using unique, pre-loved or even inherited pieces to create a creative and eclectic look. Mixing old and new, for a contemporary and homely feel.
Driven by the desire for a new challenge and to build flexibility around my family life, I decided combining these passions would be the perfect way for me to start my own small business. Through every nook I want to deliver a home fragrance brand to customers that bring the comfort and nostalgia of retro living to their home. The scents and packaging are considered in equal measure to deliver a luxury candle experience and a shelf worthy product to compliment their home style.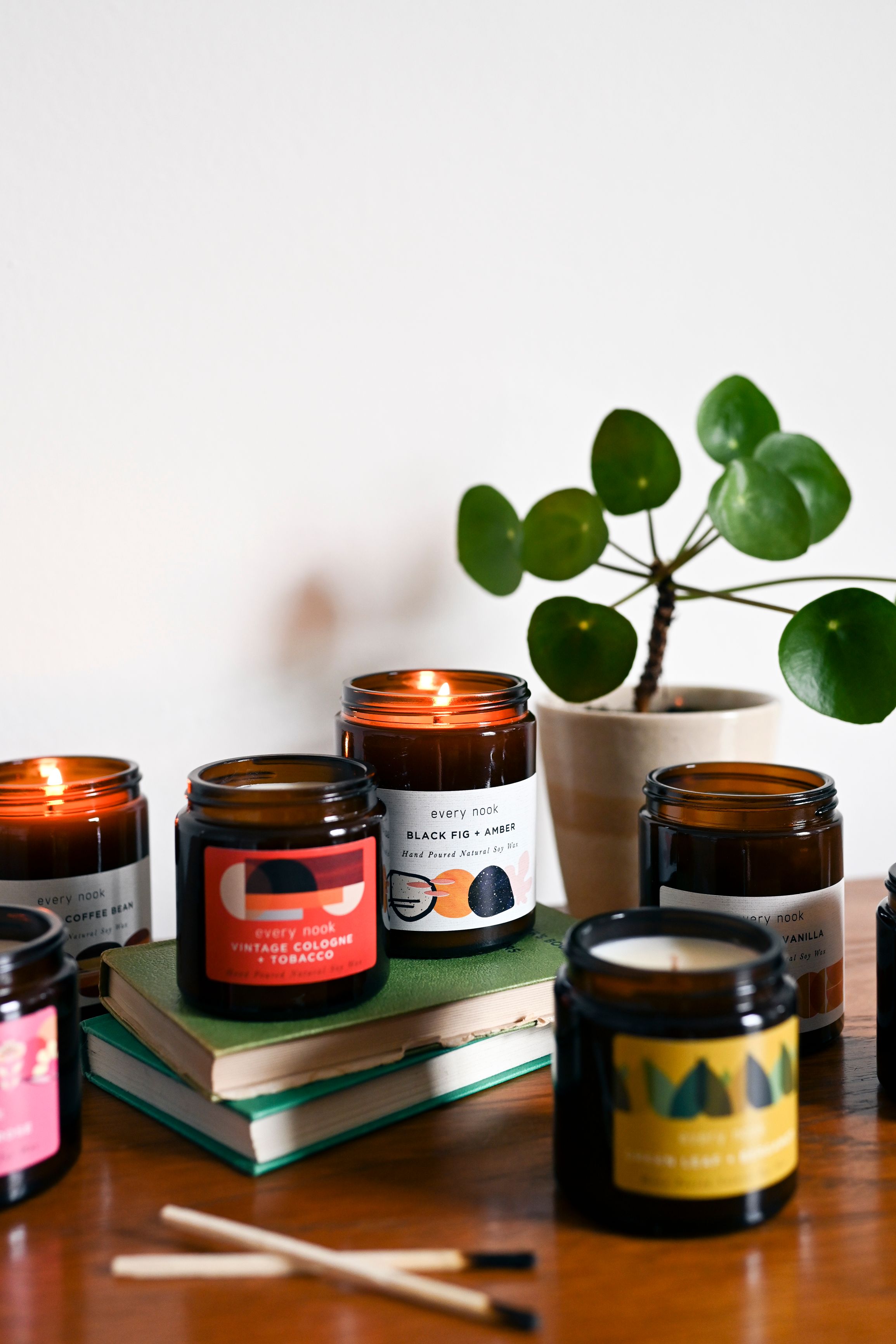 How long has your brand been operating? Have you been at Home & Gift before?
I founded every nook 4 years ago. I started on a very small scale, intentionally to learn my craft but also for necessity as I had a 2 and 4 year old at home. With just a small range of 4 scents I started selling via Etsy and making products from the cupboard under the stairs! As the years have gone by and my children have started school, I have steadily grown to selling via my own website, selling at markets and am in the process of building a wholesale business. Thankfully also now having branched out into a workshop.
This will be my first Harrogate Home & Gift. I had my first trade show last September, Top Drawer London. I'm excited to try a new event and build on my experience last year.
What's your biggest highlight of owning your brand? Why do you love what you do?
I love the ability to shape and build a brand, being solely accountable is at times scary but also very freeing. Through the ability to make quick decisions, work at my own pace and flexibly. There is so much to learn all the time and it's exciting to be able to evolve products and ways of working as my business grows. I love the direct contact with all my customers, creating the customer experience I want them to have and seeing their reaction to products, which is priceless in shaping every nook.
Looking back, what advice would you give to yourself when you first started out?
I think looking back I would tell myself to have the confidence to act like a business from the start and be braver with what I could achieve. I started this business after a period of reflection and needing a change in my working life with new family commitments. I assumed people would see it as a little hobby alongside looking after the children, and I lacked the self-confidence to counteract that, which made me hesitant.
Looking back I should have been proud of myself for deciding to follow a new path and being able to work out a way to manage both roles. I think the struggle of giving yourself credit is difficult for a lot of people starting out on their own, but reflecting on each new milestone, however small, drives motivation and builds confidence going forward.
What can we look forward to seeing from your new collections that you are bringing/launching at Home & Gift?
At Home & Gift I will be launching my new winter scent collection to buyers, Winter Pine & Eucalyptus. This new collection includes all formats and brings an exciting new packaging design to the every nook brand. The scent takes you back to the festivities and joy of decorating a real Christmas tree. Winter Pine & Eucalyptus combines the fragrance of green pine with uplifting herbal notes, and the sights of joyful glossy, bright baubles twinkling in the light.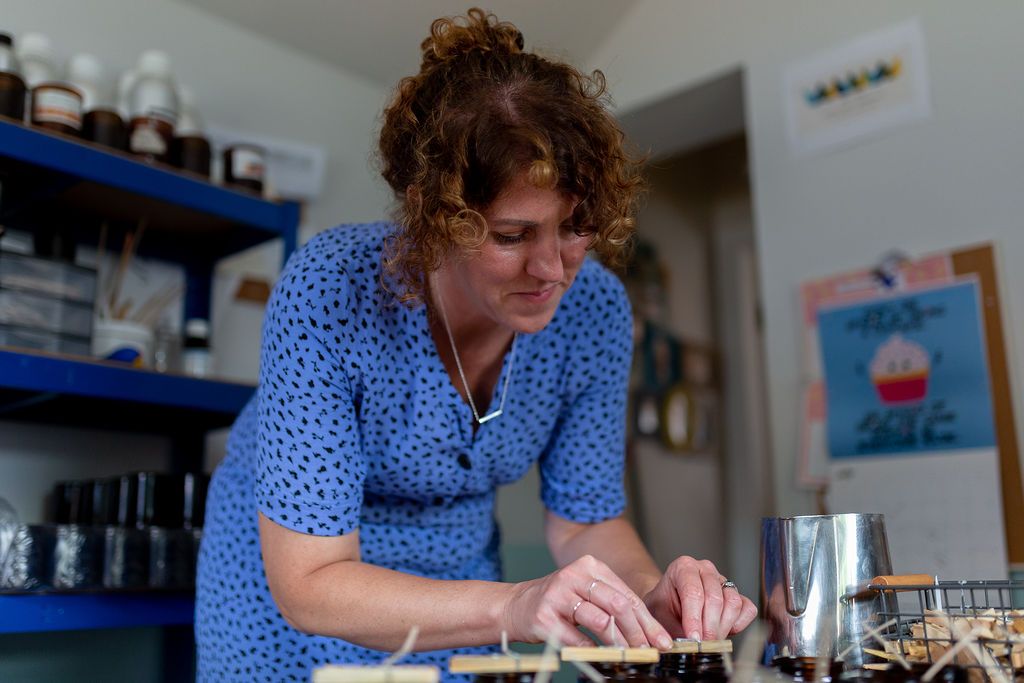 Do you have any personal favourites from your new collection?
My favourite candle format at the moment is the large double wick candle. I have loved the chance to enjoy test burning the new Winter Pine & Eucalyptus each evening. The glow from the double wick is so comforting, the scent fills the room and it looks great on the coffee table.
What are you most excited for when exhibiting at Home & Gift?
I'm really excited to meet new buyers and fellow businesses at Home & Gift. I found my first trade show last year a great learning experience due to chatting to stand neighbours and show visitors. As I work by myself I love the opportunity to share experiences with others and network outside of my local area. The atmosphere of the show looks like a great environment for this, which I have also heard first hand from existing customers.
How do you operate your brand sustainably?
My brand promotes sustainability through championing the ethos of buying preloved retro homewares, and every nook is designed to compliment this style. All products are made with soy wax that is biodegradable and sustainably sourced, and I ensure all the suppliers I use for other materials have sustainable business practices. My product packaging is recyclable and promoted to be reusable where possible. I operate my brand sustainably by making my products in small batches, reducing waste and energy use to only make products required. I also reuse parcel packaging materials received from my suppliers to ship stock to stockists to avoid buying new and energy use for recycling if not necessary.