04 May 2023
Behind The Brand | Roger la Borde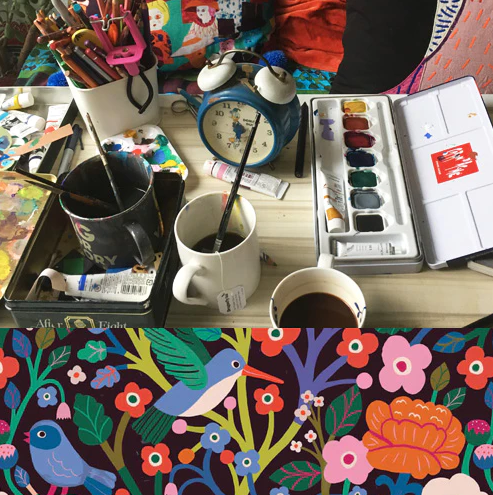 Welcome, welcome, welcome to the dazzling world of Roger La Borde! Get ready to be electrified by the charm and wonder of their amazing creations! From funky greeting cards to luxurious journals and everything in between, this company knows how to bring fun to stationery.
Tell us about your brand; what inspired you to start your brand? Where did you get the idea for your products?
We are the creators and publishers of charming, eclectic and wonderful stuff: gorgeous greeting cards, luxe notebooks and journals, chic stationery and more. Founded in 1985 by sisters Alison and Jenni, we have been helping unique and innovative shops become fabulous destinations for almost 40 years.
As two recent graduates in the 1980s, Jenni and Alison hatched a modest plan to work together designing beautiful things, knowing that they would have plenty of fun doing both. Fast forward four decades and Roger la Borde is a thriving, award-winning industry leader, with Jenni and Alison still leading the company together, and still having fun with the Roger la Borde team!
We love working with brilliant artists and illustrators from all over the world, transforming and adapting their artwork into all manner of beautiful products, from laser cut greeting cards to Pop & Slot 3D Advent Calendars.
How long has your brand been operating? Have you been at Home & Gift before?
Roger la Borde was founded in 1985 by sisters Alison and Jenni. We are a true British heritage brand, born and bred in London, and steadfastly adhering to the original brand vision of creating unusual and beautiful things on paper and beyond, as well as championing the most stylish independent voices on the high street.
We have exhibited at Home & Gift many, many times and always look forward to it!
What's your biggest highlight of owning your brand? Why do you love what you do?
At Roger la Borde we focus on creativity and innovation, and are proud to have launched many stationery trends over the years. We are proud of the creative partnerships we have forged with our collaborating artists, some of which we have worked with since day one!
However, we're equally proud of what goes on behind the scenes. From the very beginning, quality of life has been valued as much as business success. Jenni and Alison established a flexible, warm and human mode of work at Roger la Borde. As a result, we joke that Roger la Borde is like Hotel California… once you join the team, you never leave!
Looking back, what advice would you give to yourself when you first started out?
Roger la Borde has always had an appetite for creative risk-taking. As with all business stories, there have been missteps along the way, but they led us to where we are now! Our advice would be to keep taking creative risks and never stop!
What can we look forward to seeing from your new collections that you are bringing/launching at Home & Gift?
We are excited to be launching our Summer Collection! Amongst all the new goodies, we have two fresh product ranges: Flowerfield illustrated by Carolyn Gavin, and Butterfly Garden with artwork by Monika Forsberg. The ranges include Illustrated Journals, Chic Notecard Boxes, Letter Writing Sets, Gift Bags and more. We are also launching plenty of new cards, including a brand new card range illustrated by our most recent collaborator, Danielle Rhoda.
Do you have any personal favourites from your new collection?
We think it all looks fantastic together and we're excited to see it mix-and-matched on display at H&G… and soon in lots of beautiful stores!
What are you most excited for when exhibiting at Home & Gift?
Meeting lots of new people (and finding out about their wonderful gift shops) and reconnecting with familiar faces.
How do you operate your brand sustainably?
Roger la Borde has a long association with environmental causes dating all the way back to Jane Ray's Rain-forest Range in the 1980's, which raised funds for Green Peace and Friends of the Earth, so we've always paid attention to the environment and ethical concerns when sourcing and manufacturing.
The first questions we ask when sourcing a product or finding a new manufacturer are: Can we use recycled or renewable source material in this product, and does the manufacturer comply with the appropriate international standards in terms of the conditions for and treatment of its workforce?
We now use 100% vegetable based inks for most of our product. In addition, the Forestry Steward Council (FSC) trademark now appears on the backs of almost all our cards and gift wrap, which indicates that the paper meets very stringent environmental standards in terms of sourcing and monitoring.