12 May 2023
Next Christmas's Gifting Bestsellers Crowned At Gift Of The Year Awards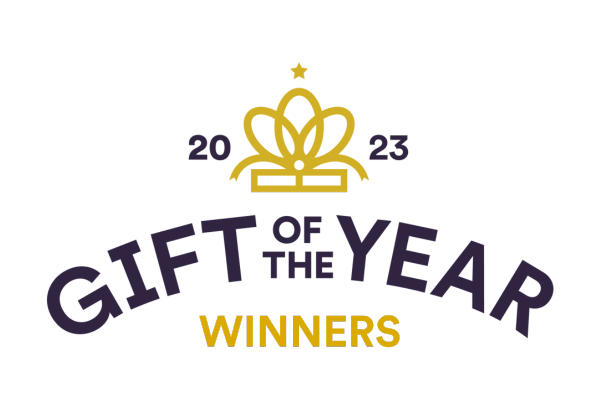 The 2023 winners of the coveted Gift Of The Year Awards were announced last night at a prestigious awards ceremony in the Heart of London. The eyes of the retail world eagerly awaited the results as the winners often go on to become bestsellers especially in the lead up to Christmas.
The Royal Lancaster Hotel hosted the black-tie Gift Of The Year awards ceremony which saw retailers, suppliers and industry experts gather together to celebrate the year's best gifts. Winners were crowned across 20 highly competitive gifting categories which showcase a cross section of the industry's most innovative, creative, and exciting new to the market products, with the totally unique and highly practical Fabulously Flat Paper Pens winning the coveted Judges Choice Award as well as the Cards, Wraps & Stationery category and hand-made in Yorkshire The Bottled Baking Co Baking Mixes in a Bottle winning the sought-after My Gift Of All Time.
Established in 1947, The Giftware Association is the only national trade representative body in the UK serving the gift and home industry. Dedicated to support the remarkable talent and creativity of its members which range from retailers to suppliers, high street brands to individual craftspeople and many others as they grow and develop their businesses.
The Gift of the Year Awards, now in its 43rd year, recognise the gifting industry's most sensational new products each year. The most highly respected industry accolades and attracting a growing number of entries each year, the awards are completely inclusive, inviting both small and global businesses to enter. The Award categories encompass all aspects in the world of gifting from beauty, bath and spa to food and drink, ethical and sustainable to novelty, tech and gadgets and this diverse selection is reflected by the judging panel of passionate industry leaders and experts including retailers, buyers, industry press, bloggers, vloggers and influencers
The competition gives a unique platform to all entrants, elevating businesses through exposure at trade shows, including Spring Fair which hosted the 2023 judging, website, brochures, and social channels. In addition, being crowned a category winner grants industry-wide recognition and previous entrants have seen a huge boost to their sales and revenue often going on to become bestsellers particularly in the lead up to Christmas.
Sarah Ward, CEO Of the Giftware Association said, "The Gift Of The Year Awards are vital for the health and prosperity of the gifting industry not only providing a platform for small and global businesses launching new products but also acting as an opportunity for those who attend to network and connect. Last night's awards were a fantastic celebration of the imagination, innovation and talent of our industry and I am excited to watch the exciting journey to come for all our finalists and winners."
Ends
For full details of the Gift Of The Year Awards winners and to enter for the 2024 awards please visit https://www.giftoftheyear.co.uk/
For more information and high-res imagery of the awards and winning products please contact emmah@goodresults.co.uk sharong@goodresults.co.uk
All Category Winners
Beauty, Bath & Spa: BrambleWood Handmade Soaps, Bramblewood Soap Co
Branded Gift: Build Your Own - Wallace & Gromit Rocket, Build Your Own Kits
Cards, Wraps & Stationery: Fabulously Flat Paper Pens, IF
Children's, Educational and Pre-School: Make Your Own Dinosaur Timeline & World Map, Clockwork Soldier
Commemorative, Collectable and Charitable: Corgi Toys James Bond's Aston Martin DB5, Blue14 D2C Ltd
Contemporary Gift: Brick Compatible Letters, Made Happy Gifts
Design & Craft: County Map Art Prints, AVMS art
Ethical and Sustainable Gift: Love Coco Coconut Bowls, Love Coco
Fashion Accessories & Jewellery: Recycled Polycarbonate Sunglasses, Peace of Mind .925 Ltd
Festive & Occasions: Festive Gingerbread Cat Playhouse, Puckator Ltd
Food & Drink: Steak & Chips Gift Sets , Ross & Ross Gifts
Games: Sounds Fishy, Big Potato Games
Home and Garden: Solar Powered Light Up Terrarium, Gift Republic
Home Fragrance: Pick and Mix Soya Wax Melts, Freckleface
International: BosilunLife Trendy Breakfast Mugs Gift Set, AllGoodThings
Kitchen & Dining: Personalised Glass Chopping Boards, Dinky Artist
My Gift of All Time: The Bottled Baking Co Baking Mixes in a Bottle, The Bottled Baking Co
Novelty, Tech And Gadgets: Leaf Cleaning Tongs for Kikkerland, WITH Creative
Under £15: The 'How to become' series, Recent Toys
Judges Choice: Fabulously Flat Paper Pens, IF